Morgan reinterprets the style in a more contemporary key through a series of sophisticated design solutions and the pairing of striking luxury materials.
The supports are made of bronze metal sheet and feature a tapered diamond-shaped section that lends vigor to the bse, while the top, available in tobacco stained flamed oak, moka oak and caramel glossy lacquer finish,m is also characterized by a distinctive flared edge. The supports connect to the top by means of a cylindrical chrome spacer. Morgan is available in a number of sizes and is designed to accommodate custom-sized tops as well. In addition to the rectangular version, it is also avialable with a round top, held in place by three supports in bronze metal sheet.
TECHNICAL FEATURES.
The Morgan table project is informed by the same aesthetic lenguage as the lang family and makes it possible to design settings where all the elements work together harmoniously.
Top: fir blockboard with oak veneer, with solid wood perimeter edge, beveled (except for the 160 and 180 Ø with flamed oak tobacco stain finish and moka open pore lacquer finish, which have a flat edge). The top rests on 100 mm Ø chrome cylinders.
Top finishes:
- caramel color glossy lacquer, 40 mm thick;
- moka open-pore lacquered oak, 40 mm thick;
- flamed oak tobacco stain, 40 mm thick;
Supp orts: in satin-finish metal, load-bearing diamond shaped section, bronze satin finish. Each support is sheathed in two MDF panels and then two laser-cut metal sheets, bent, welded and electroplated*.
Since the satin finish is handcrafted, the table supports may exhibit slightly different nuances.
Protective slide in ribbed black rubber.
* Electroplating is an industrial process used to obtain surface finishes in bronze, gold, chrome and black-nickel; it also provides surface hardness and resistance to rust and corrosion.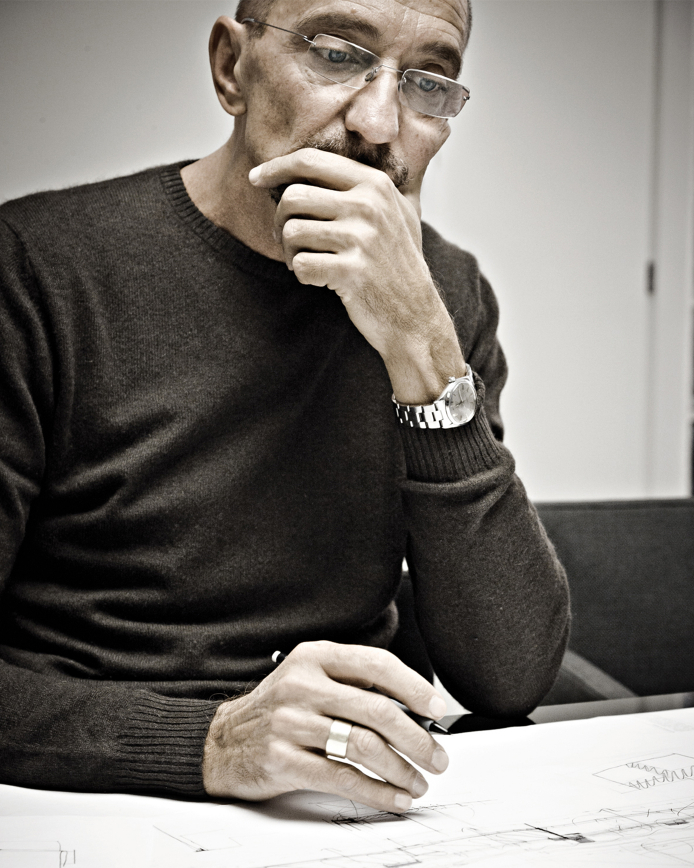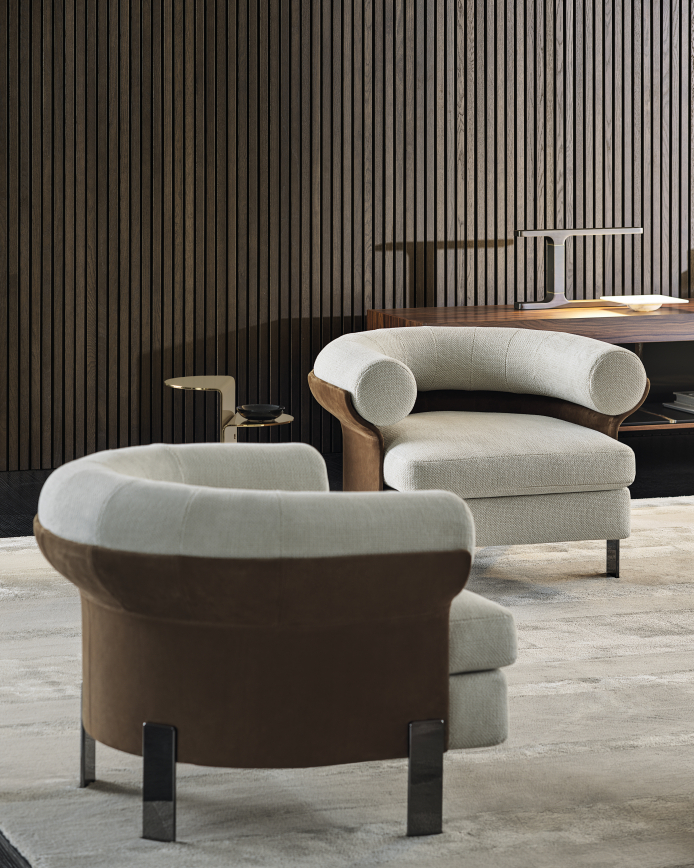 Born in Milan in 1954, Rodolfo Dordoni graduated as an architect in 1979 and until 1989 he was responsible for the art direction of Cappellini, while designing for a variety of brands including Cassina, Artemide, Driade, Moroso and Flos. Since 1998 he has been the artistic director of Minotti, coordinating all the company's collections as well as designing many Minotti showrooms around the world.
Now helmed by the third generation of the Minotti family, Rodolfo Dordoni guarantees the modern-classic aspect of the portfolio while collaborations with designers including Frenchman Christophe Delcourt and Japan's nendo bring in fresh perspective.